Please note that this post was created before VMware released the vRealize Build Tools fling. I have a new series which covers using these tools and in effect, supersedes this post. Please check out my new series on IaC for vRealize: Deploying vRealize Build Tools To Allow Infrastructure As Code for vRA and vRO
---
When you are developing in a vRealize Orchestrator environment, one of the biggest frustrations is being limited to the vRO IDE. The vRO IDE is very simple, in that it does not provide any of the features that you would expect from an IDE, such as IntelliSense and quality of life extensions/addons, and only provides basic syntax checking.
There is no integration with source control management systems such as GIT (it has an internal system which isn't great), moving code can be difficult and unit testing in the true sense of development, doesn't exist. A connection to the vRO IDE uses a JAVA client and also requires a constant connection to the vRO server, so developing on the move or offline isn't possible.
Anyone that has developed on this platform will have experienced the same issues and can only dream of the day when this is no longer the case.
You can use an IDE called Visual Studio Code, that can help make your development life easier. Admittedly, this alone doesn't solve all of the discussed problems, but it does allow you to leverage the power of this IDE to assist in code development. There are still restrictions, such as lack of integration with vRO itself, which requires the code to be manually copied to the vRO server (yes, annoying). The good news, however, is that solutions are starting to become available to provide that integration. I am going to expand more on this at the end of this post.
If you haven't heard of Visual Studio Code, it is a lightweight and features rich IDE created by Microsoft. The Visual Studio Code website describes it as:
Visual Studio Code combines the simplicity of a source code editor with powerful developer tooling, like IntelliSense code completion and debugging.
First and foremost, it is an editor that gets out of your way. The delightfully frictionless edit-build-debug cycle means less time fiddling with your environment, and more time executing on your ideas.
Visual Studio Code supports macOS, Linux, and Windows – so you can hit the ground running, no matter the platform.
I do almost all of my vRO development using Visual Studio Code, which gives me access to useful extensions and most importantly, keeps me in the mindset of how a developer should work.
In this post, I am going to cover how to set up a Visual Studio Code environment in Windows, install some useful extensions that I like to use and the installation of GIT and other required software components.
Setting Up Your Development Environment
The first thing that you will want to do, is download and install Visual Studio Code from here. When you launch this for the very first time, you'll get an immediate good impression, from how quickly it loads and how lightweight it feels. The default dark theme is also quite nice.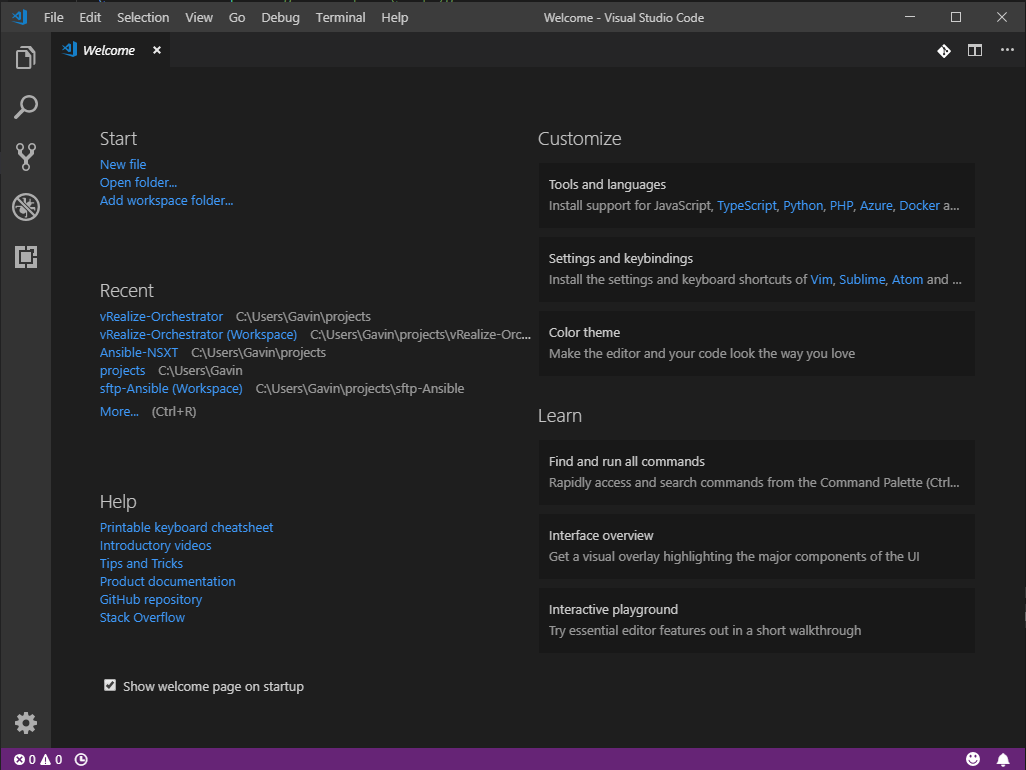 Read more "Using Visual Studio Code for your vRealize Orchestrator Development"